Smart, connected and easy – mendrhub's cutting edge technology lets you manage your mobile workforce and asset repairs from anywhere while delivering an unforgettable end-to-end experience for your customers.
With our cloud-based platform available anytime on all devices, a dedicated booking app allowing customers to book and track service jobs and a dedicated field service app letting technicians view and manage all job details across their workflow, mendrhub lets you embrace unrivalled mobility.
Tap into live asset data through the Internet of Things and automatically trigger notifications and actions to move from reactive to proactive servicing, while open API's and webhooks enable data to flow seamlessly across mendrhub and your ERP, CRM and Accounting systems.
Artificial intelligence sits across the entire mendrhub platform, helping you automate processes and optimising the experience for your technicians, service team and customers with informative notifications, automatic dispatching, smart scheduling, optimised routing, self-triage, invoice matching and insight-driven analytics.
Smart dispatching restricts service provider selection based on geographical coverage, skills and accreditation to ensure the right technician services your customers every time. Additionally, you can take advantage of our uber-like service offer system that automatically send requests to your qualified technicians.
Get a clear visual picture of all scheduled jobs and save invaluable time with schedule recommendations powered by artificial intelligence that provide optimised auto scheduling based on technician capability, coverage and tier as well as customer SLA's.
Minimise technician travel time with route optimisation that calculates the most efficient daily route while factoring in anticipated job durations, travel times and SLA deadlines for different priority jobs and providing technicians with convenient in-app map navigation.
Technicians can manage parts used on jobs with spare parts mapped to equipment models, simplifying parts selection and minimising mistakes. Service providers can manage technician van stock to maximise first-time-fix rates and create purchase orders to restock.
Enjoy flexible planning and service your assets proactively with the ability to schedule recurring, auto-dispatched jobs by location, manufacturer and asset type, and create custom checklists to ensure technicians are consistent and thorough in completing multiple-asset servicing jobs.
Custom build checklists and attach them along with any other informative documents to jobs, asset models or customer locations to ensure technicians meet compliance requirements, provide reliable servicing and have access to critical information on the go.
Technicians can use their dedicated mendrhub mobile app to upload pictures or videos to a job, create quotes, get customer approvals and capture signatures as evidence of work completed. Additionally, both customers and technicians can leave feedback to help you identify and address pain points.
Track the full end-to-end service workflow with geo-tagged status updates to keep you aware of where technicians are while providing automated and context-relevant notifications and alerts to keep your customers and technicians in the know.
Manage third-party contractors alongside your in-house technicians on a single platform, ensuring compliance with accreditation and insurance that auto-alerts technicians when expiry dates approach.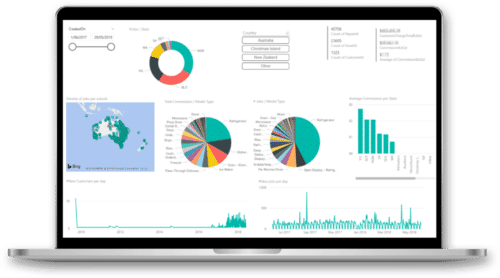 We'd love to show you how mendrhub can help your business. Use the form below to provide us with your details, and we'll be in touch to arrange a demonstration.